New Patients at Royse City Chiropractic & Rehab
Welcome to
Royse City Chiropractic & Rehab
! We look forward to helping you maximize your health and well-being. Our new patient paperwork is available for you to complete online, to save you time in our office. If you'd prefer to complete it here, no problem—simply come in about 15 minutes early.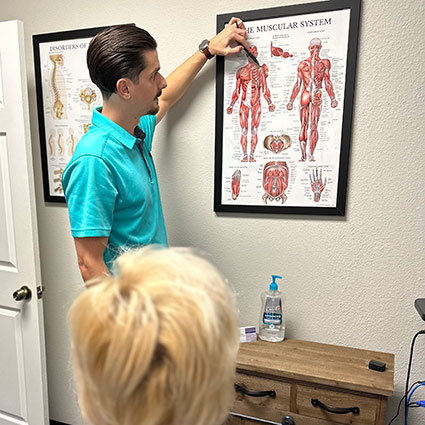 Your First Appointment
When you enter our soothing space, our front desk staff will greet you and help you with any paperwork or insurance questions you may have. Then you'll meet with Dr. Kurtz. He'll talk with you about your health history and your current issues. This consultation is always free! He'll let you know if your condition is something we can help with. If it is and you're ready to continue, he'll conduct a thorough examination to diagnose the underlying cause of your pain or other symptoms. He'll explain everything he found and let you know how he plans to correct it.
Next, you'll receive your first chiropractic adjustment to get the joint or joints moving. We'll also do some stretching and teach you how to do the stretches at home on your own. Your participation is an important component of your care. Finally, we'll end with electrical muscle stimulation and/or heat, as needed.
Plan on about 30 minutes for this visit. Ongoing appointments will be about 10 minutes.
Ways to Pay
Our chiropractic office is the only one in the area that is in-network with most insurance plans, including Medicare. We can get your insurance information before you come in so we can verify your benefits and explain your coverage to you. Cash is also accepted, and our fees are very competitive. We are happy to offer discounts for active duty military, police and fire personnel, as well as teachers. HSAs and FSAs are accepted, and you may use any major credit card.
Book Today
Getting care with us is easy and convenient—we accept same-day appointments, and we offer hands-on care at the first visit. Contact us today to schedule!
CONTACT US >
---
New Patients at Royse City Chiropractic & Rehab | (972) 636-9008